Back to Archive
For Immediate Release
RALEIGH, NC - 03/18/2020
Contact: Robert L. Ford,
rlford@ncpoultry.org
Kerry Doughty, Meat Industry Icon, Passes Away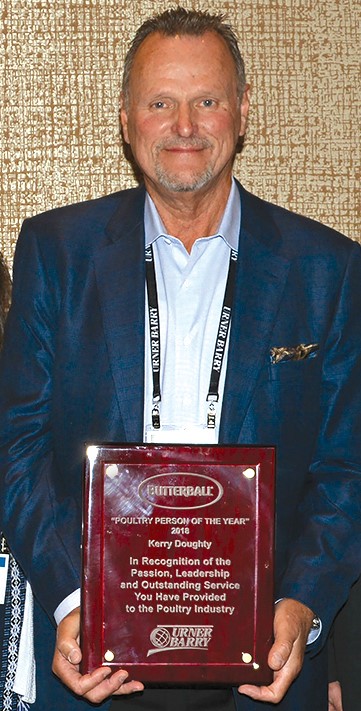 Kerry Doughty, former president and CEO of Butterball, passed away on Tuesday, March 17th, following a long battle with cancer. Kerry stepped down from his position at Butterball in December 2019 after 10 years with the company and more than 35 years in the meat industry.
Under Kerry's leadership, Butterball set a record-breaking year in 2016, launched its first no antibiotics ever and organic product lines, and saw the creation of Butterball's Animal Care and Well-Being program and certification under American Humane.
Kerry was described by his colleagues as a great leader with a big heart, evidenced by the importance he placed on giving back to communities. Kerry was an ardent supporter of the American Heart Association, U.S. military, and countless local charities where Butterball was able to make an impact.
Kerry was also described as a wonderful friend and great mentor, with a tremendous zeal for life that was obvious through his smile. Kerry was awarded Poultry Person of the Year at Urner Barry's Executive Conference in 2018. Urner Barry's SVP, Russ Whitman, described Kerry as an "outstanding individual who treated everyone he met like family and possessed a people come first mentality."
From all of us here at Urner Barry, we wish Kerry's family, friends, and colleagues comfort during this difficult time.
Andraia Torsiello
Urner Barry
1-732-240-5330 ext 223
atorsiello@urnerbarry.com
Story Posted: 3/18/2020 8:29:34 AM